FESTIVAL DATES
June 9-14, 2022
June in western Ireland is a magical time. We would be delighted to help your choir experience the green countryside and warm hospitality of the Irish people while partaking in this fabulous choral festival. We can arrange additional days throughout Ireland, to tour and explore or even perform! Join Choirs from around the globe in Limerick Ireland for a wonderful 4-night music experience. Share your voices around Western Ireland and make new friends!
Itinerary
June 9-14, 2022
THURSDAY, JUNE 9, 2022
| Depart From North America
Depart North American this evening on an overnight flight to Ireland. Select meals and snacks will be served on the overnight flight.
FRIDAY, JUNE 10, 2022
| Arrive in Ireland
Upon arrival in Dublin Ireland your Music Contact International Tour Manager with be at the airport to welcome you. Travel by private motor coach to Limerick. Stop on route to visit the Rock of Cashel and the 12th century remains high upon the limestone outcrop. Enjoy time for lunch in Cashel before continuing to Limerick. Arrive and check into your festival accommodations at the University of Limerick Parkland Campus.
This evening, join the other participating choirs to hear The King's Singers perform at the opening concert of the Limerick Sings Festival at the University Concert Hall. A welcome BBQ dinner is served to all participating choirs following the concert. Return to your accommodations for the night.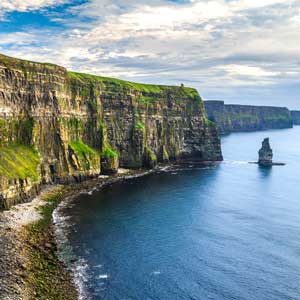 SATURDAY, JUNE 11, 2022
| Limerick Sings Festival Workshop
Following breakfast, visit the Cliffs of Moher. Here you will join all other singers in the Festival Choir, to sing for the visitors of the stunning site!
In the afternoon return to the University for a private workshop with a leading Irish choral director.
Following the workshop relax before your evening concert at the Redemptorist Church in Limerick City. Afterwards, enjoy an evening get together with the other choirs. Dinner is arranged to compliment your performance schedule tonight at a local pub.
SUNDAY, JUNE 12, 2022
| Limerick Sings Sunday Service & Festival Concert
Enjoy breakfast, then transfer to a church in Limerick where you have been invited to perform as part of this morning's worship service. Sing the portions of the service and also a short postlude following the service. Enjoy time meeting the congregation before transferring to central Limerick for free time for lunch.
This afternoon perform as part of the festival's Choral Trail – where individual choirs perform 15-20 minute programs at different venues in the region. In the evening there will be a concert in the village of Adare for a local audience. Your tour manager will be glad to suggest restaurants for dinner.
MONDAY, JUNE 13, 2022
| Limerick Sings Dingle Peninsula Tour
Following breakfast, enjoy a full day excursion to the Dingle Peninsula. With stories and insights from your local guides, enjoy exploring one of Ireland's most beautiful landscapes. There will be stops in the small towns along the way and time set aside for lunch.Return to Limerick in the afternoon and enjoy a visit to the Bunratty Castle and Folk Park. Explore the park grounds in the afternoon and then this evening enjoy a farewell dinner at the famous Medival Banquet hall inside the castle! It will be a fabulous night of feasts and festivities to end your time in Ireland.
TUESDAY, JUNE 14, 2022
| Depart or extend stay in Ireland
Following your breakfast, check out of the hotel and depart for the Shannon or Dublin airport and your return flights to North America. Alternately choose to extend your time in Ireland or another exciting location in the UK or Europe.
Traveler's Resource Website
---
The site is customized exclusively for your group, and is full of exciting and interactive features that you will find informative and helpful before, during, and after the tour.
•Current tour itinerary with full descriptions of each day
•Detailed maps of the places you will visit
•Blog platform to communicate with group members
•Recommended books, movies, websites, and videos
Online Payment System
---
Group leaders have the option to use our Online Payment System, which enables you to effortlessly collect payments for your trip. Group leaders receive weekly automated reports with traveler balances and due dates.
Travelers can log in to our secure website to review the cost of their trip and all payment deadlines, register for the trip, and make credit card payments. All travelers receive automated reminders when payments are coming due.
Additional Materials
---
•Customized handbook for each person traveling with your choir, including a detailed program and travel information.
•Electrical adapters*
•Luggage tags
•Passport holder*
*for international travelers
Lili
2021-07-29T14:44:11+00:00